---
---



AgingInPlace-Photos




THE EVOLVING HOME




ideas and pictures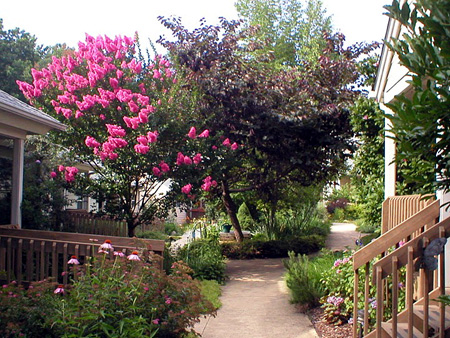 AgingInPlace-photos
How do you define "sustainable excellence"- and "Can a Luxury Home Meet "Aging-in-Place" Needs? Use this page to draw your own conclusions.Here are a number of points to keep in mind:
a) The relationship between size and  function
b) Current and future use of the home -a family legacy?
c) The necessary universal design elements for aging-in-place
d) The possibility of multi-generational - or collective use
e) trend  among our "Boomers" toward planning a place to live- whether that be new construction, or home modification to fit "aging-in-place" needs.
Here's something we can tell you, for sure. "Green Built " and  "Luxury Sustainable" properties come in many shapes and sizes. There are small footprints – possibly with elevators and three-stories rising in the trees, there are larger footprints – all on one level- and set neatly into the landscape. There are homes sited to take advantage of solar benefits.  And, there are those very large homes designed to take advantage of the gathering of intergenerational needs. And you may find 
YOU CAN RETURN TO THE FIRST INSTALLMENT HERE



flexible design is a key feature 




Sometimes one picture can say more than a thousand (or more) words

and impact your decision-making process and CHOICES around design influences and comfortable "Feathered-Nests" -- now, and for years to come.




This eBooklet contains helpful starting points






---
AgingInPlace-Photos
 GALLERY
---
After some lively discussion around the kitchen table, the idea that "one picture might be worth a thousand words"- despite the pages and pages of information we provide here- took flight.So here and on our PINTEREST BOARDS you will find our gallery of aging-in-place photos. We hope that you will find inspiration here.

Can one image  be worth a thousand words?




aging-in-place, age in place

EVERYBODY
can enjoy this Bath!


Here (above) is a central drive -in bath that is more than attractive! The shower in this photo (courtesy of The Art of Living -Mosby Building Arts)




aging-in-place, age in place

Here is an example of universal design that includes beauty and functionality.

 favorite photos
...the pocket neighborhood ...
Aging In Place Photos-  "Leading edge" older adults and those in the 55+ age group are not so likely to undertake extensive and expensive home improvement projects -  One alternative choice could be moving into a "pocket neighborhood" and/or a walkable community.
community garden- one element in a formula for sustainable excellence


AgingInPlace-photos
 A WALKABLE POCKET NEIGHBORHOOD DESIGNED BY ROSS CHAPIN


USE OF OUTDOOR SPACES FOR CREATING A WEALTH OF HAPPINESS

Sustainable Excellence may call for plenty of quality time out-of-doors.

---
TAKE A LOOK AT THESE INTERIOR SPACES
LOTS OF LIGHT AND EASY TO NAVIGATE
OF AGE OR PHYSICAL ABILITY

aging-in-place, age in place

Here are easily accessible levels and adaptations that can work for all those who live in a home, regardless of age or physical ability.

aging-in-place, age in place




Lots of light. Ease of navigation.

Aging In Place Photos- Look for: Accessibility; Age-Friendly Technology; Barrier-free living.Bathroom/spa- with attractive toilets, tubs, sinks vanities, grab bars, faucets, sinks.
Main floor (one floor) living.


No step. No rugs.
Easy to maneuver here.

 Aging In Place Photos- Lifelong Homes-  Aging-in-Pa LACE (aging-in-place) home modifications/ remodeling projects - elevators, ramps - Home automation /smart homes
CLICK HERE to connect to the  age-friendly   product review page

 Kitchen; Laundry; Lighting; Products and environments for all ages and abilities; real estate professionals and senior specialists; Universal Design elements and designs- and top remodeling choices.
---
---
Boomer consumers have a powerful impact on today's marketing outreach. It is no longer a "youth market."  Boomer-consumer power not only can spearhead new ways of expressing the phases of life, but can help to focus on quality of life regardless of age or physical ability. This is a message we highlight in our writings at The Sage Companion Quarterly and in any number of pro-aging reports from Silver Sage.

THE BOOMER EFFECT INTERACTIVE BEGINS HERE
more resources and information

Barrier-Free Main (One) Floor Living Spaces

EQUAL STATUS       CREATIVES       AGING IN PLACE       UNIVERSAL DESIGN      AGE-FRIENDLY HOMES  


---
---
---
---
---
---
---
---
---
---
---
THANK YOU FOR SHARING ON BEING SAGE

follow on Twitter | friend on Facebook   |follow on Pinterest |forward to a friend
Collect Sage Companion Practical Arts eBooklets on Kindle
---
---
---
---
---
---
---
SITE SEARCH

---
---
---
HOME       ABOUT US      DISCLOSURE     SPONSORS     DONATE     SITEMAP
Disclaimer: The nutritional and health information provided on this site is for informational and educational purposes only. It is not intended to be used as a substitute for professional advice of any kind. This information is not intended to diagnose, treat, prevent or cure any illness. Your use of this website indicates your understanding and agreement with these terms.
---
---
---
---
---