---
---
N O S T A L G I A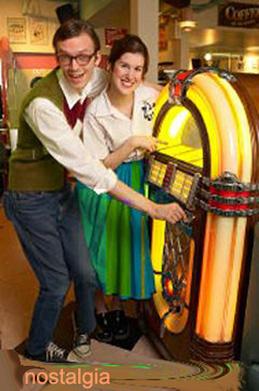 Nostalgia - Moments of Life Fondly Recalled and Put to Good Use

.
Ah Yes! Feelings of sentiment for days gone by. Those were the days!  Now you are looking in your personal rear view mirror, bringing a smile to your face- even many-many-many-many years later- and putting all you have learned to good use!
 Nostalgia
PRACTICAL ARTS FOR LIVING OUT LOUD


For you nostalgia could mean simply listening to The Beatles' Abbey Road album, scratches and all.

Or, sipping a frosty mug of A&W root beer.

Or hearing the sound only a souped-up 1949 Mercury can make rolling down Detroit's Woodward Avenue.

Or... .







For Post 50 people, those carefree times can continue with good planning.

Steady Against the Test of Time 

So are these "young 'uns" to us like we were to our older generations?  Will they "carry the torch" in the face of a societal crisis…a major military aggression on our soil [think North Korea], a plague that hits large segments of population [think SARS], or an even greater economic downturn than we just witnessed [think Great, Great Depression]?  The answer is, of course, unknown…until!  However, if history serves us, the youth generation will rise to the occasion.  When push comes to shove, the prospects of not rising will override any youthful reticence to come to the floor.  But the how it will happen can likely be traced to the mindset molded during these highly impressionable days of coming of age.  Those values noted in this study should stay steady against the test of time.

Benjamin Franklin said that the only things we can be sure of are death and taxes.  To that I would add that we can also be sure that things will change.   And each ensuing generation will change as its environment changes. 
What will the future be like?  Well, to paraphrase Lamont Cranston, of 1940s radio fame, "What change [evil] lurks in the future [hearts of men]?  The Shadow Knows!!"  So "Stay Tuned…but Be Watchful." Charles Schewe

Here's to  carefree times with lifelong pals.
Here's to meeting again on sunny days,
to high school hops, poodle skirts
and to turning the pages of your old yearbook...
---
---
AND HERE'S TO TODAY!
---
---
" The psychic reorientation to a new worldview requires courage, service, sacrifice, and intellectual vigor.This journey within is the personal spiritual, intellectual, philosophical, and psychological shift of consciousness people must make if they want to consciously evolve the human condition and create a sustainable world.

The outcome of this hard work: A transformation in how we think, feel, and live. The prize for doing this work: A purposeful and interesting life and a deep self-respect-and a better world to leave behind for future generations to enjoy." Tom Heuerman
---
---
 SOME DELIGHTFUL SENTIMENTAL FINDS

We'll Meet Again - Vera Lynn Recording

---
---
Life holds so many interesting, and sometimes difficult challenges. Find reliable information on those challenges and other subjects of interest to ALL STAKEHOLDERS - regardless of age or physical ability.
Nostalgia

You might be on the lookout for a tangible reminder of happy days- perhaps a 1930s cocktail dress,  a 1950s motorcycle jacket,  a red poodle skirt with applique intact, 60s hippie apparel, or some other vintage retro outfit, or items from professional vintage consultants  sure to bring an "OH! I remember that!" to your lips....
like awesome vintage clothing,  your college yearbook and even a place to purchase a bottle of "Evening in Paris" – a scent so unique it brings to mind one of her favorite 45s- Love Me Tender and  Elvis ...  .



 Vintage Clothing

"It's Vintage!"


VintageTrends.com - Authentic Vintage Clothing

Take a peek.

fun and sensibly sentimental


VintageTrends.com - Authentic Vintage Clothing




At VINTAGE Trends you can find just what you need for a nostalgic  trip into the 60s - clothing for avid collectors and window-shoppers alike.

Here too, are garment descriptions and historical information.




Vintage clothing is not only a way to express your unique sense of style, it is a "green" approach to clothes shopping.

Maybe the outfits you find aren't today's "fitness attire"- but they sure are fun and colorful.






Onward on this quest for wonderful memories- in many forms.  You can have a "total blast" looking for your old college yearbook(s) at  E-Yearbook.com , a family owned and operated company.

| | |
| --- | --- |
| Your Old Yearbook | "In 2003," they explained, "  we set out on what seemed an impossible task - digitize every old high school, college and military yearbook ever printed." |
ONWARD
Remember Projects You Did as a Child
and Share Them with Your Grandkids
 One of your fondest memories might be spending time with family and friends in your own backyard and garden. When you discover this book of projects, you maybe excited - not only for the happy memories, but for the chance to share those memories and projects with your grandchildren.

| | |
| --- | --- |
| | Contains 50 nature projects on plant and animal life in ponds, at the seaside, in woods, fields, hedgerows and the back garden, as well as indoor experiments, with over 300 step-by-step color photographs to illustrate each project! |
NOSTALGIA   YES   NOSTALGIA   AND  YES  TO TODAY 
---
---
---
---
---
---
---
---
---
---
---
---
---
THANK YOU FOR SHARING ON BEING SAGE

follow on Twitter | friend on Facebook   |follow on Pinterest |forward to a friend
Collect Sage Companion Practical Arts eBooklets on Kindle
---
---
---
---
---
---
---
SITE SEARCH

---
---
---
HOME       ABOUT US      DISCLOSURE     SPONSORS     DONATE     SITEMAP
Disclaimer: The nutritional and health information provided on this site is for informational and educational purposes only. It is not intended to be used as a substitute for professional advice of any kind. This information is not intended to diagnose, treat, prevent or cure any illness. Your use of this website indicates your understanding and agreement with these terms.
---
---
---
---
---