---
---



10 MAIN FLOOR IDEAS FOR




 AWESOME DWELLINGS




with a Creative Edge




photo courtesy of  Demos Builders -Asheville, NC

The Main Floor
As you envision your life 10, 20, 30 or more years down the road- would getting around your own home easily be on your list of priorities? Are YOU  up for a "stair-free" delight- for example an elegant elevator? Or simply creating one-floor beauty and function?

Below, you can evaluate the benefits of having all your basic amenities- master suite and spa, gourmet kitchen and dining- in the open-space concept easy to enjoy and all on one floor.
Consider  the  Main Floor Living Design: This design has many advantages. In terms of features and benefits  the option of aging-in-place might be a powerful choice for you. How might this look and how it could work for you?
ready to start right away? click this graphic
to begin envisioning your ultimate feathered nest  now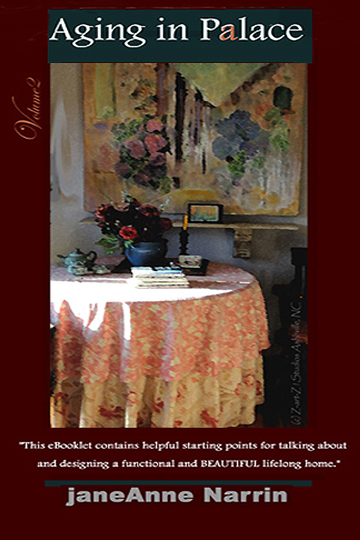 DESIGN FOR MORE  ON THE MAIN FLOOR
(it's sheer poetry!)

Below, "look out a new window to see a new vision of aging"  that actually can  work across the generations.   Here you can focus on specifics, age-friendly products , age-friendly homes,and ideas for feathering nests . Here is a universal design strategy that can work for you today and into the future. It may be one of the wisest retirement investing choices you make.


NOTE: Convenient  and accessible- - A recent poll for AARP says real convenience in terms of interior spaces and design is important to older adults and those planning for an independent future in decades to come.
10 Main Floor Ideas
Your home  can work for ALL- regardless of age or physical ability

 Main Floor
Features and Benefits


what you need to know to plan today  for lasting creative results

1) Overall Floor Plan -Main Floor living on a single story, including full bath, no steps between rooms/areas on the same level and a -foot by 5-foot clear/turn space in living area, kitchen, a bedroom and a bathroom.
2) Hallways- Minimum of 36 inches wide, wider preferred and that the hallways are well lit
3) Entry- Accessible path of travel to the home, at least one no-step entry with a cover, sensor light at exterior no-step entry focusing on the front-door lock, non-slip flooring in foyer, doorbell in accessible location, surface to place packages on when opening door
4) Thresholds- Flush preferable, exterior maximum of ½ inch beveled and interior maximum of ¼ inch
5) Interior Doors- 32 inches of clear width and a 36-inch door, levered door hardware
6) Windows-Plenty of windows for natural light, lowered windows or taller windows with lower sill height, low maintenance exterior and interior finishes, and easy to operate hardware
7) Faucets- Lever handles or pedal-controlled with thermostatic or anti-scald controls that are pressure balanced and easy touch faucets.
8) Kitchen and Laundry- Counters- adjustable and/or varied height counters and removable base cabinets, pull-down shelving, glass-front cabinet doors, open shelving for easy access to frequently used items –and—
9) Appliances – (preferably energy efficient)— front loading laundry machines. microwave oven at counter height or in wall, side-by-side refrigerator/freezer, 30-inch by 48-inch clear space at appliances or 60-inch diameter clear space for turns, multi-level work areas to accommodate cooks of different heights. Task lighting in appropriate work areas, loop handles for easy grip and pull, pull-out spray faucet; levered handles.
10) Bathroom- Wheelchair maneuverable and with bath on main level. 60-inch turning radius or acceptable T-turn space and 36-inch by 36-inch or 30-inch by 48-inch clear space, curbless shower with seat .toilet 2 ½ inches higher than standard toilet (17 to 19 inches) or height-adjustable, wall-hung sink with knee space and panel to protect user from pipes, slip-resistant flooring in bathroom and shower.
##


---
---
---
---
---
---
---
---
---
---
---
---
---
---
THANK YOU FOR SHARING ON BEING SAGE

follow on Twitter | friend on Facebook   |follow on Pinterest |forward to a friend
Collect Sage Companion Practical Arts eBooklets on Kindle
---
---
---
---
---
---
---
SITE SEARCH

---
---
---
HOME       ABOUT US      DISCLOSURE     SPONSORS     DONATE     SITEMAP
Disclaimer: The nutritional and health information provided on this site is for informational and educational purposes only. It is not intended to be used as a substitute for professional advice of any kind. This information is not intended to diagnose, treat, prevent or cure any illness. Your use of this website indicates your understanding and agreement with these terms.
---
---
---
---
---