---
---

A Wayward Wind-

RV Life

 

LEE LAWTON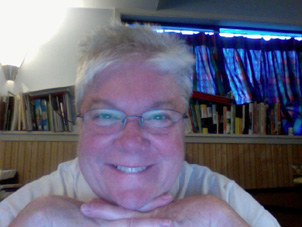 Wayward Wind RV Life
Lee Lawton


Lee Lawton has been self-employed since she was 10 years old, with only a few years of other bosses along the way. We're talking more than half a century here! I hope to be able to share with you my journey from teeny-weeny to the big girl stuff. And how you can work and play at the same time. Plus, I hope to make you laugh your ass off along the way. Happy trails!
---
---
A Golf Cart Christmas
---
---
Wayward Wind RV Life BY Lee Lawton

From one year to the next, I forget. I forget until I hear that ethereal voice, a distant voice, coming nearer and nearer, the tune vague at first, and then familiar—reluctantly familiar. Always just after dark—supper on the stove, streets deserted, and there is the voice.

I hate Christmas. Hard for me to admit, but I avoid every vestige of xmas as much as possible. I don't shop, I don't decorate, except for a string of lights that is more about the solstice and bringing light into darkness.

So, I hear the voice I've forgotten. It is a week before xmas. The voice is sweet, high, soprano, and a bit whispery with age. I know this woman. I've heard that she is classically trained—an opera singer. Hard to imagine when you see her—blue jeans, leather belts, plaid flannel shirts, wrinkled face. Maria Calles, Joan Sutherland, Rene Fleming dressed in plaid flannel? I don't think so!

In her golf cart, she haunts the streets of this desert RV resort, microphone to lips, amplifier on, alone. Caroling is usually about community, crowds, people gathering to sing the old songs: Silver Bells, Rudolph, Dreaming of a White one. How does someone put on a warm jacket and sing Oh Night Divine alone?

Up and down the silent, empty streets angelic voice crooning Fall On Your Knees. She lingers outside the homes of those who are housebound, and those who have recently spent time in hospital. The high notes pierce the traffic sounds, and I wonder if anyone comes out on their porches to applaud, or she is immune to such things. Frosty is next, then Winter Wonderland. Thankfully for this Grinch, she has not found a way to do Little Drummer Boy.

How would I feel if I wandered into the living room at dawn, and found Santa there—the iconic xmas scene? Wouldn't I want to call the police? Who in hell is that, Oh Little Town of Bethlehem ringing the Jingle Bells, presaging a White Christmas while Sleigh Bells create noise pollution?

I've heard she sips whiskey to keep her throat hydrated. I hope so. I'm sipping it now while I wonder what it all means.

Now I hear her further away—all is calm, all is bright on the breeze from afar. Maybe she has crossed over into the neighboring RV resort. Hallelujah, she sings, peace on heavenly earth. The neighborhood dogs bark and bark. Traffic roars, a helicopter with spotlight misses her entirely. Let heaven and nature sing--so far away now I wouldn't have known which carol, if I didn't know it so well.
###

---
---
Older and Wiser-- Older, Anyway
---
---
Wayward Wind RV Life BY Lee Lawton


What matters when you're 65--Medicare is numero uno. No more $500 dollar insurance payments for those of us who have to pay our own way. Sad that this is at the top of the list, but true. Forget about retirement (most of us can't afford one), and figure out a way to keep working so that nobody knows how old you are. This is numero dos.
Computers come in handy for working from home. When you wake up in the middle of the night worrying, tell yourself you have everything you need. It feels good, you can get back to sleep, and in the morning, put every thing you don't need on Craigslist. The next thing is to buy a small RV. It doesn't have to be very nice. The fourth thing is to get the addresses of all your Facebook friends so you can park your little RV at their places! It really helps if you like to cook or if you can fix things....
When you get back with your new home on wheels, go in the bathroom and take a good look in the mirror. Tell yourself, out loud, that it isn't your fault that the whole gold watch deal went down the tubes. You can speak truthfully, because it sure as hell isn't. I just hope you didn't vote for the person whose fault it is because now you're going to have to get some counseling, and that is never cheap.
After you've expiated yourself for your political malfeasance (this only applies to a few of us, thankfully), you are then free to travel about, visiting friends who Like all that stuff you Shared, painting fences and baking biscuits. Free of old encumbrances, such as deceased Aunt Millie's silver tea set, which got you a decent price on Craigs. And for new underwear now and then, there is always Social Security... .
See? You *do* have everything you need!
Wayward Wind RV Life
##

---
---
Wayward Wind RV Life - BY Lee Lawton
The Lock Doctor
---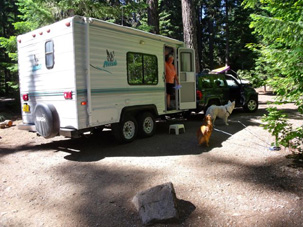 All packed early this morning. I've had this little 16 foot Nash trailer for several years, but it has been sitting in my driveway unused for the last 5. Breakups can do that do you. It was "our" sweet little nest, and then it was mine alone, and I haven't even opened the door until a couple of weeks ago.
Just me alone this time...
It still smells like that sweet little nest, and I've done so much work on myself, that now I'm ready to take it on. Just me alone this time.
Wayward Wind RV Life
I'll just hook up, which is not rocket science, as I remind myself. It is the first time I've done it alone however. I'll get the stabilizers and sway bar out of the side compartment of the trailer. No stress, I've got plenty of time—I'm planning to camp in the Ochocos in the middle of Oregon, only about 4 hours over the Cascades from home. It is a pocket of coolness at nearly 5000 feet, surrounded by Oregon's high dessert, which is now getting uncomfortably hot in late June. Not a long day at all.
Wayward Wind RV Life - THE LOCK DOCTOR
The lock on the side compartment of the trailer has always been fussy.
The lock on the side compartment of the trailer has always been fussy. I've got bent keys to prove it. This is where the hitch-up items are stored, along with the tools needed to let the awning up, and to put the stabilizers down so the trailer doesn't rock when I'm parked.
This morning at 7:45—no way I can get that compartment open. I'm grunting loud enough for people already camping in the Ochocos to hear me, and I cannot get the dammed thing open.
Okay, call the Lock Doctor.
It is not quite 8:00 a.m., but this is a lock emergency, right? Lock Doctors must work all hours. Two rings. Three rings…damn! Four rings and a man with a calm voice answers, "Lock Doctor, how may I help you?" Sweeter words were never spoke!
I tell him my story, he asks directions; he can be here in half an hour.Sweet!
Okay, I'm all packed and ready except for hooking up the trailer. I was going to hold off on the shower until afterward, but with half an hour to wait, might as well take it now.
Wayward Wind RV Life - THE LOCK DOCTOR
Jeez, this stuff is THICK!
Feels good, and I get out and apply a new lotion I got while I was stocking up on travel-sized toiletries. Olay Body, the bottle says. I like Olay products. I squirt some into the palm of my hand, and start rubbing it, two-handed, onto my legs. Jeez, this stuff is THICK!
I squirt a little more and rub it on my arms. It stays on my skin like frosting on a cake. Yuk. Wish I'd stuck with the cheap stuff I usually buy.
I am just about to exit the bathroom and get dressed when my brain says, "wait a minute, why is that stuff so thick, and why isn't it sinking in?"
I peer at the plastic bottle, no glasses on...
I peer at the plastic bottle, no glasses on: Olay Body, it says, then something about it moisturizing your skin….uh huh, uh huh, the Lock Doctor is going to be here any minute, and unlike other doctors, he may not expect me to be naked.
Then I see, at the bottom of the label, in small letters, the words, Body Wash. This is SOAP, not lotion! Back in the shower I go, frantically washing the soap off, trying to remember to rinse all the parts I've rubbed it on.
I try to drive away
Doubly clean and properly clothed, I meet the Lock Doctor, who replaces the faulty lock, and I begin to hook up the trailer. He admires my skill at getting near the hitch the first time I back up, and I am feeling pretty darned confident, until, that is, I try to drive away with the chocks in front of all four wheels.
Wayward Wind RV Life - THE LOCK DOCTOR
## 
---
---
Comment.
Writers at The Sage Companion appreciate your comments. In fact, we look forward to your response to our words and ideas. Please let us know what you think. Simply use the form below.
---
Comments
We all have some camping stories I bet! But going alone sounds like a good idea--- until you have to do it all alone...start the campfire? In the rain with no umbrella and fanning the coals with a paper plate? Wonderful memories we still have of those fun family camping trips...........
Your story brought back to mind my stories............And I hope the lock works when you need it to work! Thanks for reminding me of how much fun camping stories are.................come to Michigan..We have great camping nearby!


LOL!  Delightful read! So glad it worked out!
CLAU



---
---
---
---
---
---
---
---
---
---
---
THANK YOU FOR SHARING ON BEING SAGE

follow on Twitter | friend on Facebook   |follow on Pinterest |forward to a friend
Collect Sage Companion Practical Arts eBooklets on Kindle
---
---
---
---
---
---
---
SITE SEARCH

---
---
---
HOME       ABOUT US      DISCLOSURE     SPONSORS     DONATE     SITEMAP
Disclaimer: The nutritional and health information provided on this site is for informational and educational purposes only. It is not intended to be used as a substitute for professional advice of any kind. This information is not intended to diagnose, treat, prevent or cure any illness. Your use of this website indicates your understanding and agreement with these terms.
---
---
---
---
---