---
---
Grandma MJ
Words to th
e Wise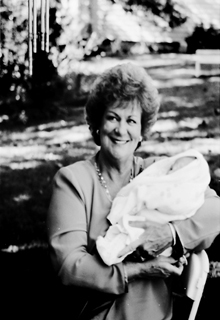 Grandma MJ
"If you do everything on this list,
you may very well sprout wings like angels, so just do the ones you are able to do,
and light up the Earth every day.

That's my .02 cents."
1. Have confidence in what you say and do. Believe in yourself!
2. Continue to learn. Be unafraid to take a class, attend a lecture, learn something new.
3.Learn to make others happier and compliment them-find the good in others. Be kind to everyone. Respect everyone.
4.Eat well.
5. Exercise regularly
6. Have a doctor who cares about YOU. Go for check ups when you need to go and make sure you are maintaining healthy ways. ( smoking is the worst thing you can do for your health! Drinking too much is not a good idea. Stress is a NO!)
7.Do not allow stress to enter your life and when it does just hear the voice of the Good Lord [or your guardian angel] saying "Peace be with you,(name)" and picture the Lord saying it to YOU.- this works!
8.Have a sense of humor and fun! Be positive...look on the bright side of things........don't put yourself down....Laugh often.
9.Be informed and be interesting.
10. Respect others even if they do not think the way you think.
11. LISTEN WELL.
12.If someone compliments you take it to heart and believe it and be proud.
13.Stand tall and dress appropriately.Have a style of your own. Not too much makeup needed. We are what we are- make the most of it . . .
14. Be grateful for everything! We women are so blessed. ..be thankful for something. Find it and appreciate what you have.
15. Share your life with others.
16.Reach out to others and allow them to love you.
---
---
Lunch with the Ladies and One Gent
---
---
Grandmothers for Peace
for ALL THE CHILDREN
of the World

a grass roots organization of grandmothers
founded by GRANDMA MJ
---
---
---
---
---
---
---
---
---
THANK YOU FOR SHARING ON BEING SAGE

follow on Twitter | friend on Facebook   |follow on Pinterest |forward to a friend
Collect Sage Companion Practical Arts eBooklets on Kindle
---
---
---
---
---
---
---
SITE SEARCH

---
---
---
HOME       ABOUT US      DISCLOSURE     SPONSORS     DONATE     SITEMAP
Disclaimer: The nutritional and health information provided on this site is for informational and educational purposes only. It is not intended to be used as a substitute for professional advice of any kind. This information is not intended to diagnose, treat, prevent or cure any illness. Your use of this website indicates your understanding and agreement with these terms.
---
---
---
---
---