---
---

THE HIGH-TECH  DRIFTER
by   Len Capelli


High-Tech Drifter
The Sage Companion Interview
SAGE: What question have you always wanted to be asked in an interview? And how would you answer that question?
CAPELLI:  When I was a young boy growing up in the early to mid '50s, I always wanted to be a Cowboy and a Football player.  I was fortunate enough to be able to play football for Eastern Michigan University, after earning  a freshman letter in track at the University of Michigan. 
Then many years later, a friend took a couple of pictures.  One was me working on the ranch in the Texas Hill Country in which I had a 50% interest, riding my regular horse and herding some of the horses on the ranch to a new pasture.  The second was a picture of me and my other partner in a breeding and racing venture standing in the winners circle at Los Alamitas race track in California.  In both pictures I was wearing wranglers, boots, a western shirt and a cowboy hat.  When I looked at these pictures it brought a tear to my eye. 
I was very lucky, few people ever get to live their boyhood dreams.



THE AUTHOR

LEN CAPELLI




    LEN CAPELLI gives readers a glimpse of the life, times and perspective of a well-seasoned and highly successful computer industry executive as he replays his evolving career.

In this well-told tale, we learn how one results-oriented executive- VP of Sales and Marketing for hardware and software companies and for a number of Start-ups navigates the waters of big business to become the Business Development Manager for the Commonwealth of Virginia, responsible for economic development and business development in Northern Virginia.

Spiced with humor and a good dose of reality, this is a narrative you won't want to miss.




High-Tech Drifter
An Unfolding Narrative
by  Len Capelli
High-Tech Drifter
Len  Capelli has always been a dynamic character. He has been the Business Development Manager for the Commonwealth of Virginia responsible for economic development and business development in Northern Virginia - working closely with Federal agencies as well as Federal Contractors in an effort to bring, keep and add jobs in Virginia. He currently sits on the Board of a Renewable Energy company as a Director and  sits on the board of several small phase one start ups. At the Virginia Department of Transportation he sits on the Citizens Review Board for Megaprojects.
At his alma mater, Eastern Michigan University (EMU), he is an executive board member of the National Alumni Board , Co- President of the National Capital Chapter of EMU Alumni Board, Deans Resource Board, EMU College of Science and Technology, E-Gridiron Group, EMU Advisory Board Member, Industry Advisory Council, Association of Computer Technology, Warren County Incubator/Business development Board, Northern Virginia Technology Council,Michigan Homeland Security Consortium, AFCEA. We were excited when he agreed to grant us an interview.
High-Tech Drifter-  Executive, Entrepreneur, Adviser to The Powers-That Be and Bold Storyteller, here are the Memoirs of one tall man in the world of marketing and management. He shares the first chapters exclusively here....
The High-Tech Drifter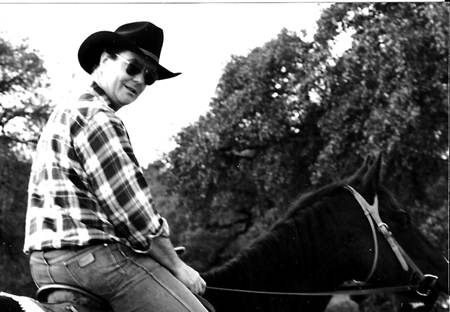 High-Tech Drifter

Many years ago when the movie High Plains Drifter, starring Clint Eastwood was popular I was socializing with some good friends. All of us enjoyed various degrees of success in the high-tech industry. My very good friend and a down home philosopher, Phil looked at me and said,

"With the number of companies you have worked for through the last ten years, you are the High Tech Drifter!"

That was the day I started to think about writing a book by that name.  I played with an outline of a book, and it started to take so many different directions, I thought it might end up looking like a wagon wheel.
So there it sat as I got started on another project - writing a series of books about the Civil War experiences of a Texas Hill Country boy, attending Virginia Military Academy and then his exploits during and shortly after the War.
1


CHAPTER ONE

How I got into "High Tech" or at least what that meant way back in 1969
2




CHAPTER TWO
I Flung the Famous Fedora of Bankers and hopped into a whole new world.

3

CHAPTER THREE
"I always enjoyed beating IBM throughout my career."
4




CHAPTER 4
Where I learn sales, sell 80 machines but miss quota club. And have a heck of a vacation.
5




CHAPTER 5
I enter 40 automotive manufacturing plants, and create a game plan to penetrate the Big Three. 

High-Tech Drifter
| | |
| --- | --- |
| 6 | In the era of the ascending conglomerate, many companies were acquiring other smaller and larger companies in diversified fields at an almost alarming rate.  |
| | |
| --- | --- |
| 7 |  "The Cloud" in today's technology buzz word environment was easy but back in mid-1974 I had to learn to explain Timesharing. |
---
---
---
---
---
---
---
---
---
---
---
THANK YOU FOR SHARING ON BEING SAGE

follow on Twitter | friend on Facebook   |follow on Pinterest |forward to a friend
Collect Sage Companion Practical Arts eBooklets on Kindle
---
---
---
---
---
---
---
SITE SEARCH

---
---
---
HOME       ABOUT US      DISCLOSURE     SPONSORS     DONATE     SITEMAP
Disclaimer: The nutritional and health information provided on this site is for informational and educational purposes only. It is not intended to be used as a substitute for professional advice of any kind. This information is not intended to diagnose, treat, prevent or cure any illness. Your use of this website indicates your understanding and agreement with these terms.
---
---
---
---
---