---
---
Grandma MJ

-1



Words to the Wise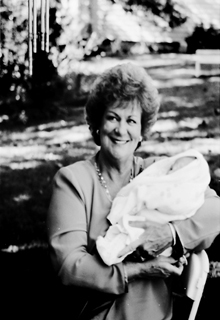 GrandmaMJ-1

"It is not easy getting older....but it can be made better if you keep that good attitude and spirit and enjoy each day!"
I put together a birthday breakfast with several ladies (with white hair in various phases and hues of becoming) and one man (balding) this morning.
We were celebrating one of the lady's 87th birthday- she is a widow and has no children.The only problem with breakfast: That sole man monopolized the conversation. No one else had a chance to contribute to the conversation! He was not interested in anyone but himself!
I think it is important to listen to others and learn how to communicate back and forth/give and take/talk and listen. I felt sorry for this man's wife who had just had hip replacement surgery. She had to talk over her husband in order to get that in!
They had 9 kids and maybe it was easier to have those 9 than to try and talk to her husband!
We Each Have Our Challenges
One of the other ladies is 89-ish, I think. She was worried about her grandson who was having open heart surgery.
Another of the ladies babysits for her four grandkids (frequently) and had to rush home to meet the bus from kindergarten. "The worst part of babysitting," she said, "is worrying about them missing the bus!"

GrandmaMJ-1
"Next time you come Grandma -
don't stay so long!"
I asked her if any of their grandkids said, "Next time you come Grandma -don't stay so long!" as my grandson said once when I was babysitting!She said NO she had not heard that one yet! And we all had a good laugh.
Many of our breakfast companions today could be poster people for living a full life- despite the imperfections we all have...and despite the challenges we all face in aging. We laugh easily. We like people! As I said, it is not easy to get older....but it can be made better if you keep that good attitude and spirit and enjoy each day!
##
Missing the Hollyhocks
(Grandma MJ Free Verse)

I realize our lives do go full circle.............
we talk about the few memories of the past that we can gather...........
like hollyhocks I once thought were weeds
growing in the alley behind Grandpa's house.
I photograph them now and see
how beautiful each one is for me.

We can change our thinking even in old age!
Thank God!
I would not want to have missed the hollyhocks.
GrandmaMJ-1
##
---
---
---
---
---
---
---
---
---
---
---
---
---
---
THANK YOU FOR SHARING ON BEING SAGE

follow on Twitter | friend on Facebook   |follow on Pinterest |forward to a friend
Collect Sage Companion Practical Arts eBooklets on Kindle
---
---
---
---
---
---
---
SITE SEARCH

---
---
---
HOME       ABOUT US      DISCLOSURE     SPONSORS     DONATE     SITEMAP
Disclaimer: The nutritional and health information provided on this site is for informational and educational purposes only. It is not intended to be used as a substitute for professional advice of any kind. This information is not intended to diagnose, treat, prevent or cure any illness. Your use of this website indicates your understanding and agreement with these terms.
---
---
---
---
---