---
---
DARK CHOCOLATE
yummm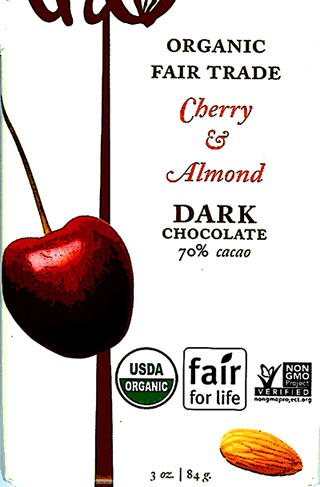 on the pros and cons of chocolate 
Having spent hours upon hours researching our favorite sweet-treat and its potential health risks and benefits, we are pretty sure (see references below) that we now can continue to enjoy our morning  tidbits and scones. And we can do so with confidence knowing full-well that old wives tales are not always accurate or wise.
HEY!
We eat
dark chocolate
for breakfast!!!






WHAT IS


1)   Good for Your Heart

2)   Good for Your Brain

3)  Helpful in Controlling Blood Sugar

4)  Full of Antioxidants

5) High in Vitamins and Minerals ?


 AND PUTS A SMILE ON FACES OF ALL AGES

"Daily consumption ... (polyphenol content equivalent to 100 g of dark chocolate) can reduce cardiovascular events by 85 (95% confidence interval 60 to 105) per 10 000 population treated over 10 years. "(ref below)
The blood pressure and cholesterol lowering effects of [this] consumption are beneficial in the prevention of cardiovascular events in a population with metabolic syndrome...[and] could be an effective cardiovascular preventive strategy in this population. ..any effects shown in this analysis pertain specifically to dark chocolate…."
 PUB MED ARTICLES REVIEW

Consumption of high-polyphenol of this "breakfast treat"  improves endothelial function in individuals with stage 1 hypertension and excess body weight.  Nogueira Lde P, Knibel MP, Torres MR, Nogueira Neto JF, Sanjuliani AF. Int J Hypertens. 2012;2012:147321. doi: 10.1155/2012/147321. Epub 2012 Nov 8.  
Chocolate consumption and risk of stroke: a prospective cohort of men and meta-analysis. Larsson SC, Virtamo J, Wolk A.Neurology. 2012 Sep 18;79(12):1223-9. doi: 10.1212/WNL.0b013e31826aacfa. Epub 2012 Aug 29. 22933736[PubMed - indexed for MEDLINE]
Benefits in cognitive function, blood pressure, and insulin resistance through cocoa flavanol consumption in elderly subjects with mild cognitive impairment: the Cocoa, Cognition, and Aging (CoCoA) study.  Desideri G, Kwik-Uribe C, Grassi D, Necozione S, Ghiadoni L, Mastroiacovo D, Raffaele A, Ferri L, Bocale R, Lechiara MC, Marini C, Ferri C.Hypertension. 2012 Sep;60(3):794-801. doi:   10.1161/HYPERTENSIONAHA.112.193060. Epub 2012 Aug 14.PMID: 22892813
A diet low in animal fat and rich in N-hexacosanol and fisetin is effective in reducing symptoms of Parkinson's disease.  Renoudet VV, Costa-Mallen P, Hopkins E.J Med Food. 2012 Aug;15(8):758-61. doi: 10.1089/jmf.2012.0060. Epub 2012 Jun 25.PMID:22846082
Everyday eating experiences of chocolate and non-chocolate snacks impact postprandial anxiety, energy and emotional states. Martin FP, Antille N, Rezzi S, Kochhar S.Nutrients. 2012 Jun;4(6):554-67. doi: 10.3390/nu4060554. Epub 2012 Jun 20.PMID:22822453 
Health Benefits? You Decide.
self-guided learning tour


The effectiveness and cost effectiveness of consumption as prevention therapy in people at high risk of cardiovascular disease: best case scenario analysis using a Markov model.  Zomer E, Owen A, Magliano DJ, Liew D, Reid CM.BMJ. 2012 May 30;344:e3657. doi: 10.1136/bmj.e3657.PMID:22653982 -

...where we discovered that our favored treat  has antihypertensive, anti-inflammatory, antithrombotic, and metabolic effects. 

Short term trials have shown that ... consumption can potentially reduce systolic blood pressure … and total cholesterol concentration ….
dark chocolate... more



Coach Yourself Thin- Greg Hottinger -on Chocolate  - among other things
---
---
~from reader-
For a real kick try 3 or 4 roasted cacao nuts. I grind them up with my coffee beans and French press them for a great cacao-cap coffee flavor - not to mention the energy buzz. If they are not roasted you may find them very unpalatable so I roast mine in toaster oven.
---
---
more about HAPPINESS- on the home front

---
---
---
---
---
---
---
---
---
---
---
THANK YOU FOR SHARING ON BEING SAGE

follow on Twitter | friend on Facebook   |follow on Pinterest |forward to a friend
Collect Sage Companion Practical Arts eBooklets on Kindle
---
---
---
---
---
---
---
SITE SEARCH

---
---
---
HOME       ABOUT US      DISCLOSURE     SPONSORS     DONATE     SITEMAP
Disclaimer: The nutritional and health information provided on this site is for informational and educational purposes only. It is not intended to be used as a substitute for professional advice of any kind. This information is not intended to diagnose, treat, prevent or cure any illness. Your use of this website indicates your understanding and agreement with these terms.
---
---
---
---
---