---
Universal Design


PLAN AHEAD


Stunning, Functional & Long-Lasting Home





- Universal Design -

The "Lucky Few" (1929-1945) & "Baby Boomers" (1946-1964) Plan Ahead for Stunning and Functional Homes

The idea of creating a comfortable home is not a new one. As we age it certainly makes sense- as it does throughout a lifetime. And it is possible seamlessly to incorporate accessibility features into our homes- with just a bit of thoughtful planning-so important when you desire the results to be both stunning and functional, and to work for every stage of life. Aging-in-place is a much touted choice these days, and universal design elements incorporated into living spaces support that choice.

In this article, you will find descriptions of the Energy Efficient Universal Design Elements you may desire consider of you choose to age-in-place (as we call it, Age-in-PALACE© -to stay in your own home. These elements, in addition to being beautiful, and functional also can provide cost savings.




Comfortable and Cost-Wise
Universal Design Elements &
A Happy Home for All Ages and Sizes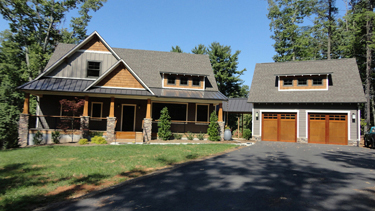 UNIVERSAL DESIGN: The following features provide comfort and are cost-wise for you and families of all ages and sizes.

1) Electrical, Lighting, Safety and Security-

Light switches by each entrance to halls and rooms, light switches, thermostats and other environmental controls placed in accessible locations no higher than 48 inches from floor.

Clear access space of 30 inches by 48 inches in front of switches and controls, rocker or touch light switches, high-tech security/intercom system that can be monitored, with the heating, air conditioning and lighting, from any TV in the house, pre-programmed thermostats.

Of course, if you are anything like the research team here at The Sage Companion, you also will appreciate a home that is wired for computers.


2.) Flooring - Smooth, non-glare, slip-resistant surfaces, interior and exterior -bamboo and recycled hardwoods-

3) Heating, Ventilation and Air Conditioning -(HVAC)

Everyone can appreciate an HVAC system that is designed so that filters are easily accessible. We look for energy efficient HVAC units, and we still like windows that can be opened for cross ventilation, and plenty of fresh air!

4) Energy Efficient Home Features

In-line framing with 2 by 6 studs spaced 24-inch on center.

Air-barrier installation and sealing of duct work with mastic.

Reduced-size air conditioning units with gas furnaces.

Mechanical fresh air ventilation, installation of air returns in all bedrooms and use of carbon monoxide detectors.

Energy efficient windows with Low-E glass.


5) Reduced Maintenance/Convenience Features- Inside and Out!

Easy to clean surfaces

Central vacuum

Built-in pet feeding system

Built-in recycling system

Video phones

Intercom system Low-maintenance exterior (vinyl, brick)

Low-maintenance shrubs and plants

Deck, patio or balcony surfaces are no more than ½ inch below interior floor level if made of wood

Other Ideas:

A separate apartment for rental income or future caregiver.

A Flex space or room that can used as a nursery or playroom when the children are young and as a home office later; if combined with a full bath, this room could also be used for Aging-in-PALACE©.
ADD YOUR IDEAS (use form)

Comment. Join the Conversation.
Writers at The Sage Companion appreciate your comments. In fact, we look forward to your response to our words and ideas. Please let us know what you think. You can use the form below.
---
---
As always, if you want state-of-the-art "encore age" advice, please see my eBook for a quick start guide to comfortable homes
  regardless of age or physical ability.
Now .99Cents
THE QUICK START GUIDE TO
AGING IN PALACE
 Look For Volume 2 Out Summer,2013