---
---
eBook1

ReVision Your Home - The Quick Start Guide- Volume 1





LAST CALL




Volume 1 Now .99Cents



Look for Volume 2  Summer, 2013
AGING

IN

P

A

LACE

©


Do you have a friend or relative who might feel more comfortable visiting you if your home
were more accessible?

---
---
eBook1
 THE QUICK START GUIDE


Do you have a friend or relative who might feel more comfortable visiting you if your home were more accessible? We do. So we have figured out cost-effective ways to plan, design, and create a beautiful and functional dwelling place designed for a lifetime. 
Wouldn't it be nice if we could stay in our homes (age-in-place) instead of needing to settle for costly and impersonal alternatives? Find out how to do this, and make it a beautiful, comfortable and functional dwelling place for a lifetime with the
Silver Sage's eBook, AGING-IN-PaLACE.
LAST CALL
Volume 1
Now .99Cents
THE QUICK START GUIDE TO
AGING IN PALACE

 Volume 2 Out This Summer

AGING-IN-PALACE
the quick-start guide

(30 pages,5,000 words)
.99 cents


ALL proceeds
support this site
THANKS!



---
---
eBook1
From the Author- Silver Sage
"Planning and creating a dwelling place that is designed for life
makes sense regardless of one's age."
Eighty (80)percent of older people today say they prefer live in their own homes.
In planning for independence in the future the "Lucky Few" (1929-1945) and Baby Boomer (1946- 1964) generations see a process of change and certain steps to take. Possibly the first step is to become familiar with the vocabulary of "aging-in-place" – or, as referred to in this report, Aging-in-PALACE©. The desire to live in a home of their choice actually may change the way homes are designed. Research shows that the home-building industry thinks that aging will be the second-biggest influence on home design in the next few years [source: NAHB].

eBook1
AGING IN P

a

LACE is a simple, fast-reading, step-by-step guide

just 30 pages

.

 
Use it today  to start talking in the language
service and product suppliers understand.
Here find the three steps to creating

function, comfort, and beauty in a "lifelong home.

"

HELP US SHARE THE BEST IDEAS



IN JUST THREE STEPS




Step 1. Learn the terminology of aging in place.
(preview just below)


Step 2. Consult with experts  to make your home an accessible"palace"
regardless of age or physical ability.

Step 3. Use your considerable consumer buying power to demand and expect age-friendly excellence.
---
---
---
PREVIEW
 AGING IN PALACE©
where function, comfort,and beauty coexist
 THE TERMINOLOGY OF AGING IN PLACE
eBook1
Accessibility/accessible - A term that describes the usability of a product or service by people with physical disabilities- sometimes referred to as Universal (accessible) design - a broad-spectrum ideas meant to produce buildings, products and environments that are inherently accessible to people-regardless of age. Other names for Universal Design: Accessible Homes, Baby Boomer Dwellings, Adaptive Architecture, Diverse Design, 55+ Homes, and Aging- in-Place Design.
Active living community -A community designed to provide opportunities for people of all ages and abilities to incorporate physical activity into their daily routines
Aging in place -The ability to live in one's own home and community safely, independently, and comfortably, regardless of age, income, or ability level.
Community- A specific group of people, often living in a defined geographic area, who share a common culture, values, and norms and who are arranged in a social structure according to relationships the community has developed over a period of time. The term "community" encompasses worksites, schools, and health care sites.
Connectivity -The ease of travel between two points. The degree to which streets or areas are interconnected and easily accessible to one another. An example of high connectivity would be a dense grid pattern in a downtown area.
Energy smart -Meeting your energy needs cost effectively and with the least impact on the environment.
---
---
speak the language

TALK ABOUT
age-friendly products and services with family and providers

eBook1
The desire to stay in our own homes
absolutely can change the way
homes are designed
The home-building industry expects that aging will be the second-biggest influence on home design in the next few years [source: NAHB]. A concept home received a coveted 2012 Best of 50+ Housing Award from the NAHB for a home that meets the physical needs and lifestyle of baby boomers. http://www.udeworld.com/news.html
It seems unlikely that members of the "Lucky Few" (1929-1945) and Baby Boomer (1946- 1964) generations will choose to move to "retirement homes." The common dialogue these days reads more like this: "Please do not patronize us as 'senior citizens' - because despite certain negative stereotypes about aging, we really are quite clear about our choices for a place to live for a lifetime."

preview CONTINUES below
LEARN THE TERMINOLOGY OF AGING IN PLACE - part 2
---
---
---
preview - part 2

 AGING-IN-PaLACE©
where function, comfort,and beauty coexist
.
eBook1
Green design -Using natural products and safer procedures to protect people's health and well-being.
Green space -Open, undeveloped land with natural vegetation.
Healthy community -A community that is continuously creating and improving those physical and social environments and expanding those community resources that enable people to mutually support each other in performing all the functions of life and in developing to their maximum potential.
LEED -An acronym for The Leadership in Energy and Environmental Design Green Building Rating System™. LEED is a voluntary, consensus-based standard to support and certify successful green building design, construction and operations.
Mixed-use development -Juxtaposition of land classifications, such as residential, office, commercial, industrial, park, and flood plain within a given area.
Modal choices - Transportation options; one's preferred method of transportation, such as walking, bicycling, using an automobile, riding a bus or rail, etc.
Neotraditional development - Characterized by urban regions comprising many cohesive neighborhoods, each with their own commercial core and linked to one another by some form of transit…. The neighborhood centers may include retail establishments, offices, service providers, cinemas, health clubs, dense housing, and a transit hub.
New Urbanism -An approach to development and redevelopment emphasizing good connection with surrounding neighborhoods, developments, or towns, while protecting regional open space. It includes various types of building seamlessly integrated - workplaces, retail establishments, and different types of housing, has a neighborhood center within easy and safe walking distance from all dwellings in the neighborhood.
Quality of life -Referring to an overall sense of well-being with a strong relation to a person's health perceptions and ability to function.
---
---
eBook1
You don't have to be old to live in an accessible home.
But with Luck you will be old some day.

YOUR PLAN * YOUR CHOICE

Live comfortably regardless of age
or physical ability

AGING IN PALACE©
---
---
---
---
LEARN THE TERMINOLOGY OF AGING IN PLACE - part 3
---
---
preview -part 3

 AGING IN PALACE©
where function, comfort,and beauty coexist
.eBook1
Radiant heating -An efficient heating system that warms cold objects, which then radiate heat into the surrounding space evenly.
Renewability-Natural materials that are rapidly renewable, such as fast-growing trees and agricultural products.
Renewable energy-Energy derived from sources that do not deplete natural resources. Examples include solar, wind, and geothermal energy from the Earth's core.
Reusability -Products that are long-lasting and require little maintenance.
SmartCode -A comprehensive form-based zoning and planning approach that incorporates smart growth and New Urbanism principles to help organize the human habitat.
Social capital – "The individual and communal time and energy that is available for such things as community improvement, social networking, civic engagement, personal recreation, and other activities that create social bonds between individuals and groups. Circumstances that prevent or limit the availability of social capital for a community and its members can have a negative effect on the health and well-being of the members of that community. These negative effects on health and well-being can in turn have negative effects on the community as a whole."
Sustainable design -Reducing the environmental impact from the manufacture and use of products.
Sustainability -Meeting the needs of the present without depleting resources or harming natural cycles for future generations.
Transit-oriented development (TOD) -Development of commercial space, housing, services, and job opportunities close to public transportation, thereby reducing dependence on automobiles.
Walkable community- A community where people can walk safely.
Source: CDCHealthy Places
Accessible, universal design allows function and aesthetics to coexist. Developed by a wheelchair-bound architect who thought that homes should be designed for everyone, regardless of physical ability or age, universal design has become more prevalent.

The concept flows throughout the living space as a whole and can include the design of an entire sustainable community - as per this photo.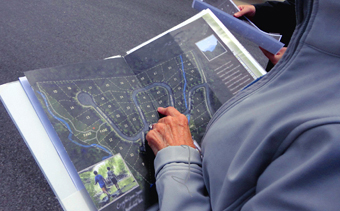 ---
---
HELP US SHARE THE BEST IDEAS
---
---
---
---
Comment. Join the Conversation.
Writers at The Sage Companion appreciate your comments. In fact, we look forward to your response to our words and ideas. Please let us know what you think. You can use the form below.
---
---
---
As always, if you want state-of-the-art "encore age" advice, please see my eBook for a quick start guide to comfortable homes
  regardless of age or physical ability.
Now .99Cents
THE QUICK START GUIDE TO
AGING IN PALACE
 Look For Volume 2 Out Summer,2013